Your Low Country Re-Roofing Experts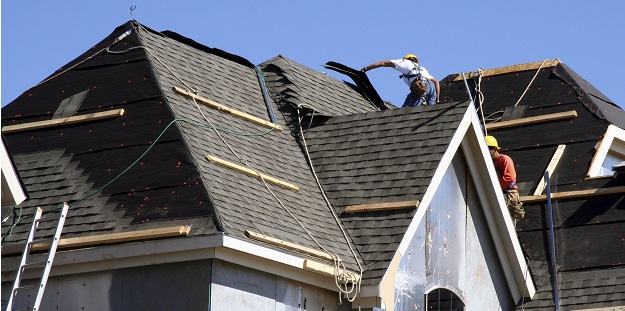 Some roofing problems cannot be ignored: the roof sags, shingles are missing, or rain water seeps into the attic. Other times the problems may be less obvious — but due to age and weather you should expect to need re-roofing services eventually.
If you think you may need re-roofing for your Charleston, North Charleston, or Mt. Pleasant Home, talk to the experts at Kramer Construction. We offer helpful guidance, provide you with options, and will carry out your complete re-roofing with precision and quality — leaving you with a new, beautiful, durable roof.
When Do I Need Re-Roofing Services?
Homeowners can inspect for many signs of roof damage. Most of these problems can be spotted from the street or from inside the attic. Just be careful and do not climb on the roof unless you are certain it's safe. You can always call Kramer Construction for a free roof inspection and estimate.
Age and weather: Many roofs need to be replaced after 20 years. Some last longer, while others may require re-roofing before the expected lifespan due to improper installation from previous roofing companies or weather damage through the years.
Damaged shingles: This includes curling, cracked, discolored, and missing shingles. A few damaged shingles can lead to moisture problems that spread quickly. If this is starting to happen, it's time to call in our roofers.
Warped roof or framing: Roof damage can sometimes be observed inside the attic, where the wood framing has bowed or rotted. Re-roofing services can repair and replace the interior damage in addition to replacing the roofing.
Leaking: Water damage poses a significant threat to the roofs of South Carolina. Look for moisture or water spots on the ceiling and in the attic. On the exterior, water damage can lead to warping, sagging, and discoloration.
Leading the Berkeley, Dorchester, & Charleston County Roofing Companies
Proper re-roofing can provide longer lasting protection as well as better home comfort and energy efficiency. Kramer Construction provides expert re-roofing services including complete repair and replacement of the entire roof system if necessary.
Our roofers can inspect for damage and determine if roof framing and insulation needs to be replaced or upgraded. We also precisely install new membrane or underlayment that will protect the new roof from rain damage and provide better ventilation for the home.
Kramer Construction uses high-quality roofing materials including CertainTeed roofing shingles with outstanding durability, beautiful color and style choices, and great energy ratings. We also provide re-roofing services for metal roofs and other materials.
With our decades of re-roofing experience and a licensed team of professionals capable of handling full-scale home remodeling, you can feel good about hiring Kramer Construction for re-roofing services. Our expert guidance, customer-friendly approach, and master craftsmanship lead to better comfort and protection for you home — with a beautiful new roof built to last.
Schedule A Free Estimate Today!
If you need re-roofing services now or anticipate a roof replacement in the near future, get in touch with Kramer Construction for a free estimate and more info about our roofing services in the Charleston, SC area.